When it comes to fast food, you likely always hear about how it just isn't good for you. While that's true for the most part, many fast food chains are making strides when it comes to providing healthier meal options you can grab in a hurry. The main thing to keep in mind is that you just need to make smarter choices when eating fast food. (And of course, only eating it in moderation!) The next time you're on-the-go and need to grab a quick bite, keep these fast food options in mind… 
KFC: Kentucky Grilled Chicken Whole Wing & Drumstick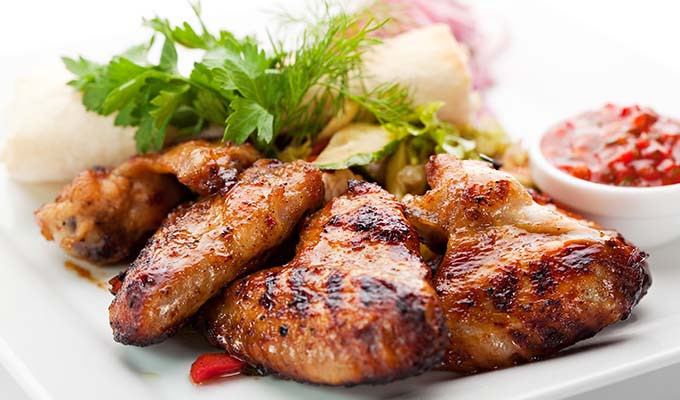 Chicken is a fantastic source of protein without providing too much fat and calories. You just want to make sure you choose the right kind of chicken! If you're heading to your local KFC and looking for a healthier option than most, go for the Kentucky Grilled Chicken Whole Wing & Drumstick.
The great thing about this meal is that the chicken isn't fried like a lot of the chicken meals are at KFC. Instead, it's grilled, which is a much better option for your body. In total, this order comes out to 170 calories, 8.5 grams of fat, and is 23% of your daily value of sodium.
Wendy's: Ultimate Chicken Grill Sandwich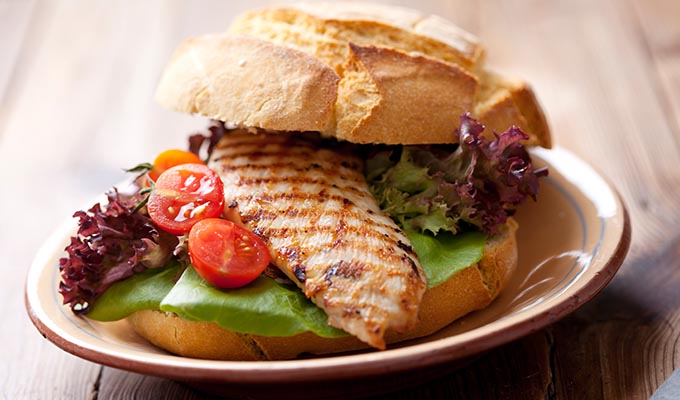 If a chicken sandwich is what you're craving, consider stopping by Wendy's. The chain provides an Ultimate Chicken Grill Sandwich, which will help you get your fix without providing too much fat. This sandwich totals 370 calories, 8 grams of fat, and has 42% your daily value of sodium.
Chipotle: Vegetarian Salad with Black Beans, Fajita Vegetables, and Vinaigrette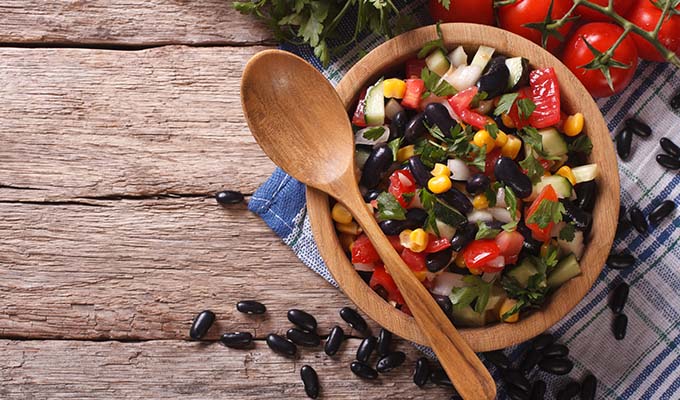 What you might not realize about Chipotle's offerings is that many of their meals come backed with high calories, fat, and sodium. Now, that doesn't mean you need to give up your Chipotle addiction completely. You just need to make smarter decisions next time you're going through the line.
We'd suggest going for a vegetarian salad with black beans, fajita vegetables, and vinaigrette. It sounds delicious, right? Well, this meal total comes out to 420 calories, 26.5 grams of fat, and contains 53% of your daily value of sodium.
Starbucks: Spinach and Feta Wrap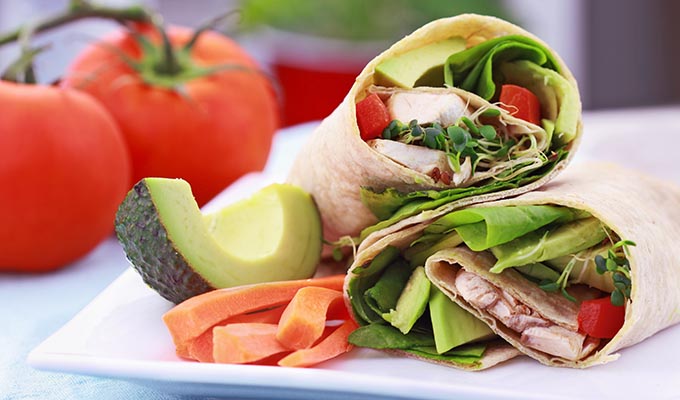 If you find yourself craving a little something extra while you're waiting in line for your daily caffeine fix, look for the Spinach and Feta Wrap at Starbucks. It's one of the healthier options you'll find at the chain, with only 290 calories. It also contains 19 grams of protein that will help to strengthen your muscles and fill you up. So, this quick and easy wrap will make the perfect lunchtime meal!
McDonald's: Artisan Grilled Chicken Sandwich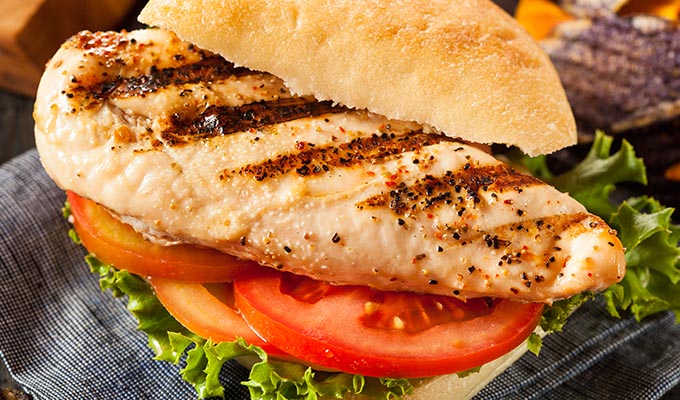 Another great option for a chicken sandwich can be found at McDonald's with their Artisan Grilled Chicken Sandwich. It's perfect when you need to grab something while out and about and it'll only set you back 360 calories and six grams of fat. This sandwich also has plenty of protein (thanks to the chicken) with 33 grams total.